The Schoolhouse
The following extract is from "Ordnance Survey Memoirs of Ireland – Parishes of County Antrim VII 1832 – 1838". Thanks to The Institute of Irish Studies, The Queen's University of Belfast for permission to use this extract.
Schoolhouse of Lower Ballinderry.

The Lower Ballinderry schoolhouse, situated in the village of Lower Ballinderry, was built by subscription in 1827, cost about 273 pounds. The Marquis of Hertford granted the school grounds and liberally subscribed to the erection of the schoolhouse, as did also the Very Reverend Dean Stannus, his agent, and several other gentlemen and farmers in the neighbourhood.

The house is a handsome slated house, 1 -storey high in the front and 2-storeys in the rear, and divided into 2 divisions, one for the males and the other for the females, and lit by 7 large oblong windows, 4 in front and 3 in the rear. The lower storey, consisting of 2 rooms and a kitchen, is fitted out for the male and female teachers' lodgings. Attached to the school is also a good garden for the use of the teachers. The grounds is improved by shrubberies and forest trees. The house accommodates a Sunday school in the summer. Information obtained from the teachers also from John Carroll and Harden Byrnes. 8th and 10th March 1838.
A School History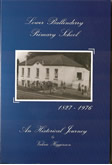 "Lower Ballinderry Primary School 1827 – 1976 – An historical journey" by Valerie Higginson was published in 2007. The proceeds from the sale of the booklet go to the Parent Teachers' Association of Ballinderry Primary School.
The book contains 99 pages including photographs. Photographs and names of some of the former pupils are published at the rear of the booklet. They include – 1920s, 1923 – juniors, 1923 seniors, 1931, 1933/34, 1937, 1946, 1947, 1948, 1949, 1952, 1953, 1954, 1956, 1957, 1958, 1972, 1974 and 1976.
The publication is an excellent social history of the school and the surrounding area. For further details and information on how to obtain a copy are available at Lisburn.com.